Does Homeowner's Insurance Usually Cover Foundation Repair?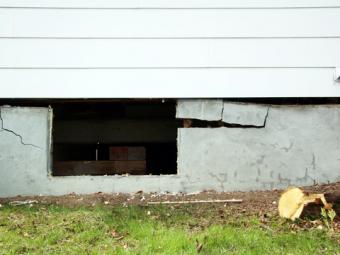 Your home's foundation is one of its most important aspects, and foundation damage can be both difficult and costly to repair. Because the stability of your home depends largely on the strength of your foundation, repairing foundation damage is crucial to maintaining the safety of your home. Unfortunately, many homeowner's policies do not cover foundation damage, and others pay for it only under specific circumstances. When buying insurance, it's a good idea to research your specific policy to understand exactly what it covers and find out whether it can be modified to cover foundation damage.
Am I Covered?
Homeowner's insurance is designed to pay for repairs for damage caused by sudden, accidental losses. This means that general maintenance and similar repairs are not covered. In general, insurance policies cover damages based on the peril responsible for them. In other words, the type of damage is not as important as what caused the damage in the first place.
Review Declarations
To determine if your homeowner's policy might cover foundation repair, your first step should be to check your policy's declarations page to see what perils are named on the policy. Different policies will list different perils. Bear in mind that some policies cover only named perils while others will cover any damage that's not specifically excluded from the policy.
Reviewing your policy's declarations page can give you a good idea of whether foundation repair might be covered and under what circumstances. For example, broken pipes and sewer backup can both cause foundation damage. If these perils are not listed on the policy, then foundation damage resulting from them will likely not be covered. Since broken pipes and sewer backup problems are not uncommon, you may want to consider having this type of coverage added to your policy.
Commonly Covered Perils
Some of the most common named perils are:
Wind damage
Water damage from broken pipes
Water damage from sewer backup or sump pump failure
Fire
Theft and vandalism
Commonly Excluded Perils
A few of the most common policy exclusions include:
Flood
Earthquake
Construction defects
General wear and tear
Supplemental Coverage
Supplemental policies or endorsements can usually be purchased to cover damage caused by floods and earthquakes. As these are two common causes of foundation damage, it's a good idea to purchase these endorsements to protect your foundation.
Denial of Foundation Repair Claims
If your foundation is damaged by a peril not listed on your policy or one actively excluded from the policy, a claim will likely be denied. Additionally, insurance will not pay for damages arising from regular wear and tear. Foundation damage that occurs over time will generally not be covered by insurance. Additionally, damages to your home caused by wear and tear to your foundation may not be covered. For example, cracks in your wall or ceiling caused by a shifting foundation may not be covered.
Even if damage is covered, the repairs may not fully restore your foundation. Insurance will usually only pay to restore damages immediately caused by the covered peril. If additional damage is found in your home that was not directly caused by the covered peril, repairing that damage is your financial responsibility.
Clarify Coverage
It's best to determine what perils are included on your policy as early as possible to prevent surprises later on. You don't want to risk discovering that foundation repairs are not covered after your home sustains damage. Therefore, it's a good idea to be proactive about your policy and make changes to coverage before you experience a problem.
For information about your specific policy, you should contact your insurance agent or the company's customer service department. An agent will discuss your coverage with you and let you know whether modifications to your policy should be considered.