Umbrella Insurance Policies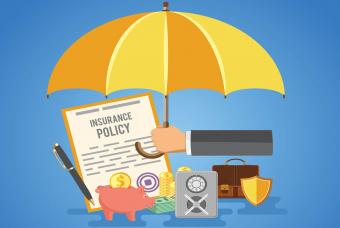 Do you ever wonder what you would do if you were sued for a large amount of money? While insurance policies have specific liability limits, they can quickly get used up depending on the damage caused. An umbrella insurance policy provides coverage beyond the limits of other insurance policies. The extra coverage can be a lifesaver in a major liability lawsuit.
What Umbrella Policies Cover
According to Travelers Insurance, umbrella policies provide coverage for damages you cause to another person, place, or thing, or liability ascribed to you under a legal action beyond what your other insurance policies cover. They also provide some types of protection that other types of personal insurance policies do not, specifically against damages assessed for libel, invasion of privacy, and slander lawsuits.
Essentially, an umbrella policy is additional liability insurance. For example, if you are in an auto accident and cause $1 million in damage but your auto policy coverage maximum is $300,000, an umbrella policy would cover you for the additional $700,000.
Depending on the policy, coverage can extend to events and items such as:
Property damage
Bodily injury
Auto accident damage above and beyond auto policy limits
Wrongful eviction lawsuits
Slander or libel lawsuits
If you've heard of a stand-alone personal liability policy, you may wonder if umbrella coverage is the same thing. It is. Personal liability coverage is a general term that includes coverage that exists in your auto insurance, homeowner's insurance, and umbrella insurance.
Average Cost
Umbrella policy coverage usually ranges from $1 million to $10 million. According to TrustedChoice.com, the average cost of an umbrella policy ranges from $200 to $1,000 per year. Policy premiums can depend on several factors including:
Credit history
Whether there is a teenager in your household
Your risk profile
The insurance company
Your location
Your net worth
Determining Whether You Need Coverage
Umbrella policies aren't just for the extremely wealthy; there are many different reasons why an individual would seek an umbrella policy. The main aspect to consider when purchasing a policy is your risk factor. There are behaviors and items that can increase an individual's risk, such as having a long commute, owning a dog, or having a trampoline at home.
When considering purchasing an umbrella policy, Marketwatch.com recommends determining two kinds of risks.
Personal Risk
Your personal risk is the likelihood you will be sued for a personal injury claim. Some factors that make you more likely to be sued include:
Having a pool
Owning a dog
Entertaining frequently at your home
Having expensive, fast cars
Having a long commute to and from work
Having a variety of 'toys' such as jet skis or snowmobiles
All these situations mean that you are at risk of having an accident in which someone else in injured. When someone is injured at your home or due to your snowmobile, dog, or pool, you are likely to be sued.
Risk to Your Assets
This risk includes considering how much you have saved and types and amounts of property you own and whether those items would be at risk of being lost should you be found liable for causing damage.
Some of the assets you may want to protect with an umbrella policy include:
Your home
Cars and/or other vehicles
Retirement savings
Investment accounts
Valuable collectibles or art
Jewelry
If you are found liable in a large lawsuit, all these assets are available to pay off your debt. With an umbrella policy, these assets are protected.
Companies Selling Umbrella Policies
Several large and well-rated companies offer personal umbrella insurance policies. Insurance companies are rated by Standard and Poor on an alphabet scale that ranges from AAA to D. You can check an insurance company's rating on Insure.com. AAA indicates a company that is very likely able to meet its financial commitments, while a D rating indicates a company that is currently in default on its financial commitments.
Some policies require that the insured have specific limits on their other policies. For example, an insurance company may require that the insured have an auto policy with liability coverage protection up to at least $300,000 prior to selling an umbrella policy.
GEICO
GEICO offers an umbrella insurance policy that provides coverage in cases of catastrophic financial events. Its coverage begins once your boat, home, or auto insurance policy limits are exhausted. This company is rated an AA.
GEICO does require that your auto insurance is with them in order to purchase an umbrella policy. They don't offer their own homeowner's, so as long as you have the required underlying coverage you can insure your home with anyone.
Travelers
Travelers' umbrella insurance policy provides between $1 million and $10 million in coverage. It is designed to protect your investments, home, car, and income. It also provides financial protection to help pay for legal costs, such as attorney's fees. This company is rated an AA.
Travelers does not require your underlying home and auto coverage to be with them, but they provide a discount if you bundle your policies.
Allstate
Allstate's personal umbrella policy is available in amounts ranging from $1 million to $5 million. The policy provides worldwide coverage and may provide protection for any lost wages incurred while you are in court defending a lawsuit. It also helps you pay for attorney's fees. This company was rated an AA-.
You can add an Allstate umbrella policy to your existing home and auto coverage, though you may benefit from multi-policy discounts if you bundle coverage.
Progressive
Progressive is ranked an AA. Its umbrella policy provides up to $5 million in coverage and gives worldwide coverage. Coverage extends to costs incurred in handling a lawsuit, vacation rental liability, and personal injury coverage, which includes damages from libel and slander lawsuits.
A Progressive umbrella policy can be added on to auto and homeowners coverage you already have. However, you may find it advantageous to add it this coverage to a home and auto bundle for maximum discounts.
Choosing an Umbrella Policy
There are a variety of factors to consider when shopping for this type of insurance. You may want to purchase protection from your current insurance provider, but there are also a variety of reasons to buy an umbrella policy from a company you don't already have coverage with. For example, you may find a better price somewhere else, or you may have situations that cause you to not qualify for umbrella coverage from your primary insurer. You may also need a higher limit of umbrella coverage than your primary insurer offers.
To find the personal liability coverage that's right for you, compare multiple policies coverage types, limits, and premium amounts. Find out what underlying insurance they require. Then, you'll be ready to choose an umbrella policy that fully meets your needs.