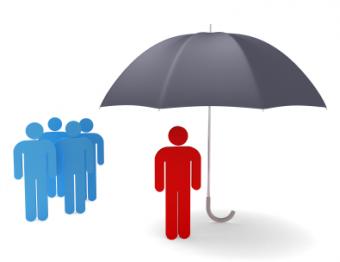 It's upsetting enough when a loved one dies, but it can be difficult if you don't know how to find out if someone has a life insurance policy to figure out exactly what his or her assets are worth. There are several ways to determine if someone has a life insurance policy. If none of these methods work, you can also hire an investigator to research every potential avenue of information.
How to Find Out if Someone Has a Life Insurance Policy
If you're curious about whether or not your relatives have life insurance policies while they are still alive, the only way to find out is to ask them. You can't write away to banks, life insurance companies, or their employers and ask; the information is confidential. If, however, a relative has died, there are several steps you can take to find out whether or not they had life insurance. The following steps assume that you have a copy of the person's death certificate, duly endorsed or stamped by the state as an official and legal copy of the death certificate, and/or the executor of the estate of the deceased.
Look Through Financial Records
Look for a paper trail showing premiums paid to life insurance companies. Review cancelled checks, checkbook records, and credit card statements. If you see the name of a life insurance company, contact the company and explain the situation. They will not release information to you over the telephone but may ask for legal proof that the person is deceased and that you have the legal right to review their financial records.
This method isn't foolproof. Some insurance premiums may be paid in one lump sum or the policy may have been paid off years ago, with no recent record of premium payments. If you don't find a record of a life insurance policy, don't give up but continue on with another avenue of inquiry.
Contact Employers
If the deceased was employed at the time of death, the executor should contact the company's human resources department and ask if they provided life insurance. Many companies provide life insurance as part of their benefits package. The human resource department should be able to help you file the appropriate paperwork to process the claim.
Veterans Administration
Many people who served in the military purchased life insurance benefits, especially veterans of active wars. Such benefits may increase over time. If you know your relative served in one of the branches of the military, you'll need a copy of his or her official discharge paperwork as well as a death certificate. Start with the Department of Veterans Affairs near you and call them for more information.
MIB Solutions
MIB Solutions is a company that helps people find lost life insurance policies. Their records go back only about 12 years, so any policies older than that may not be in their databases. But with 170 million records on file, there's a good chance they may be able to help. The cost is around $75 per search.
Investigative Services
As a last resort, you can hire a professional investigator to help you. Paul D. Archibald is a former insurance company executive who maintains a database of nearly all life insurance companies. For a fee, he can help you find out if your deceased relative had a life insurance policy.
Unclaimed Life Insurance
If despite your best efforts you fail to locate a life insurance policy, there's still a chance of finding it through Missing Money. Their database contains listings for unclaimed life insurance policies and other accounts, such as bank accounts.
Plan Ahead
As you can see, there's no easy way of how to find out if someone has a life insurance policy. It's critical to plan ahead if you obtain life insurance and talk to your loved ones, especially the elderly and ill members of the family, to fully understand their financial matters before they become incapacitated or pass away.
For yourself, make a list of all the insurance policies you have, including your life insurance policy. List the company, policy number, and details or make a copy of the policy papers. Place these in a safe deposit box or leave a copy with the attorney who has your will on file. It's a good idea to talk to an attorney and draw up a will so that if you should die unexpectedly, your family won't have to struggle through legal paperwork while they're grieving.